If you want to unite your life with your couples life, forever, it is important to do it in an special and unique way.
One of the most important moments in a relationship, is the Marriage Proposal. If what you are looking for is a wonerful and special background for this special moment, beach is definitely the ideal place.
There exists different ways for a unforgetrable and beautiful Marriage Proposal.
Romantic Dinner
This Marriage Proposal Idea never go out of style. You can decor it and organize it your own and couples way.
Enjoy a delicious dinner and good talk at the seas shore, with the sunset as background. At the right moment, ask your couple on of the most important questions of your life.
Your partner will be amazed and you will make a memorable momebt for both of you.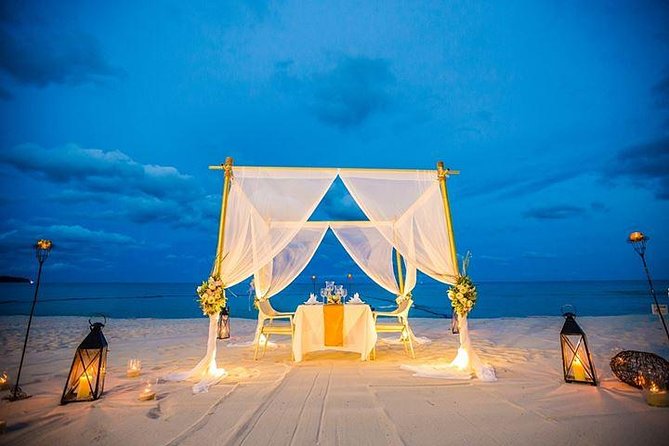 Candle Aisle
Candle lights at a Marriage Proposal, represents energy; love; and promise between two people.
Candles are magical items, imagine asking this important question, to the love of your life, with the sea as background and a beautiful candle aisle.
Additional, you can add a neon light with the special phrase: "would you marry me?"
It will be a wonderful and unique moment, that neither of you both will forget.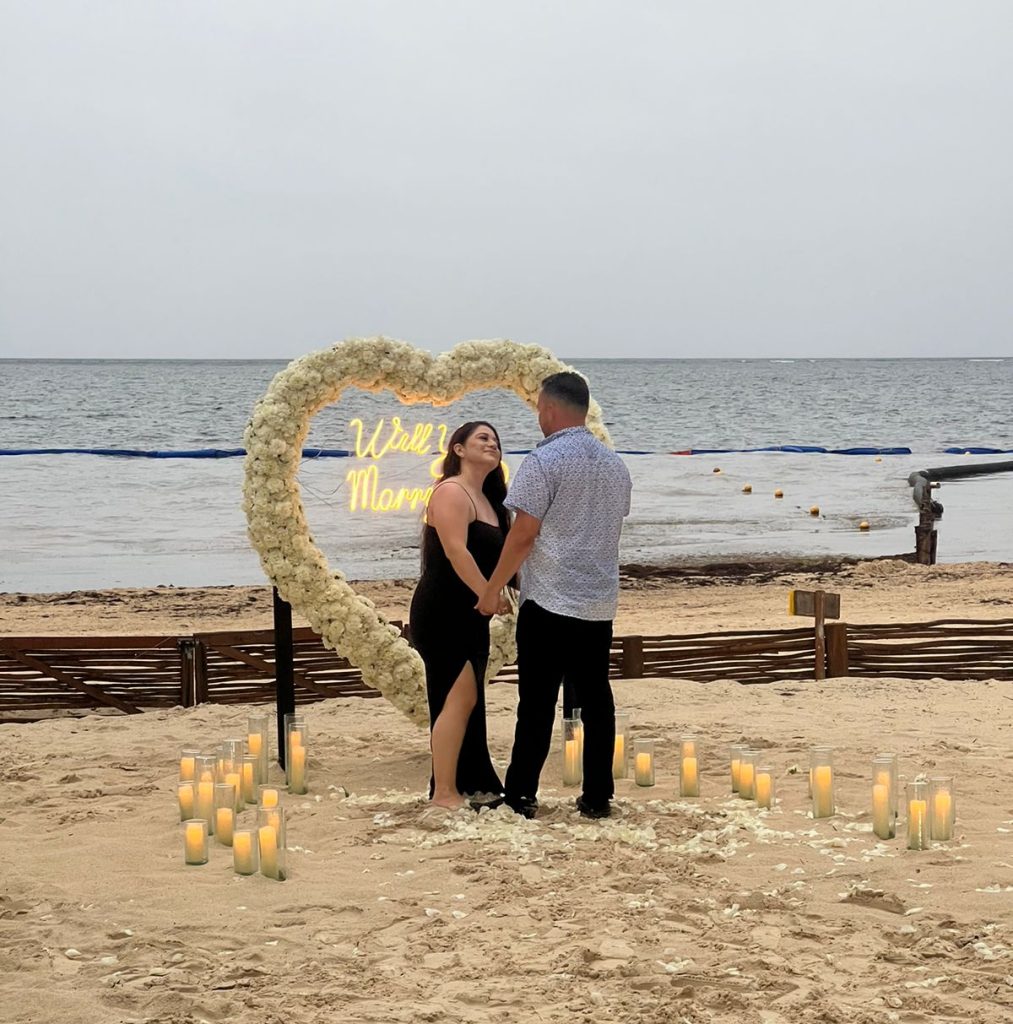 Giant Letters
Another beautiful way for Marriage Proposal is with giant letters.
This is a very romantic way. With the waves sound and a petal aisle that will guide your partner to this letters, that will form the question that he or she was waiting to hear for a long time.
You will create a magic moment, full with love and happiness for both of you.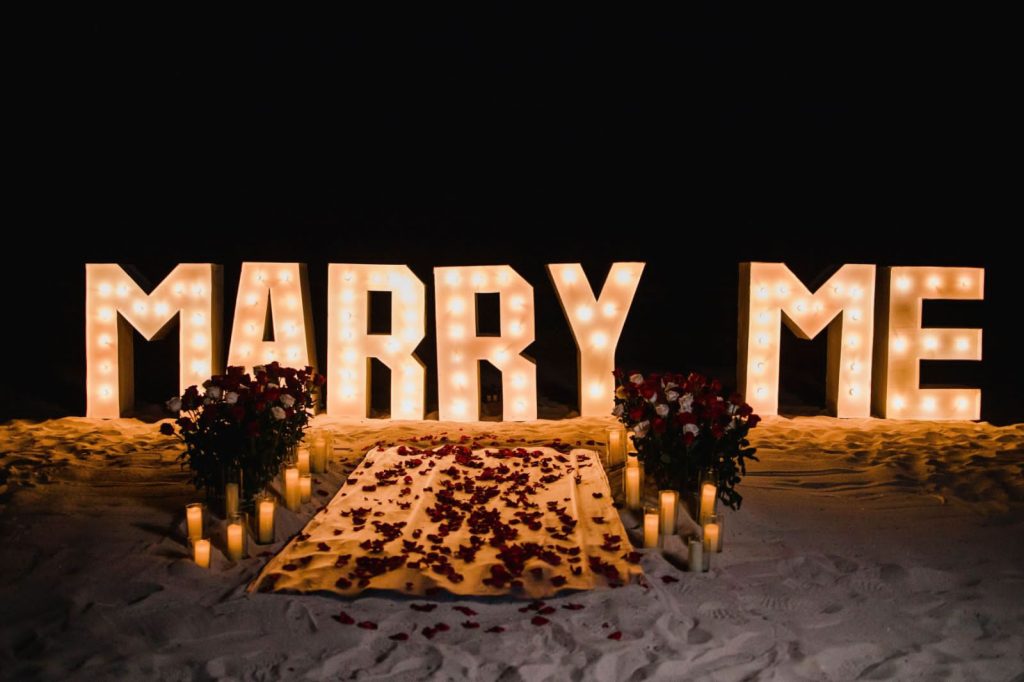 Beach Picnic
If you want to make a less formal and not expected proposal, beach picnic is an incredible idea.
Feel free to decor it your own way. We recommend you to put a blanket to sit over. You can add a little table and cushions to eat, or you can eat over the blanket.
Having a picnic at at seaside, is the best idea. Havving it during sunset, will create a wonderful and unimaginable moment.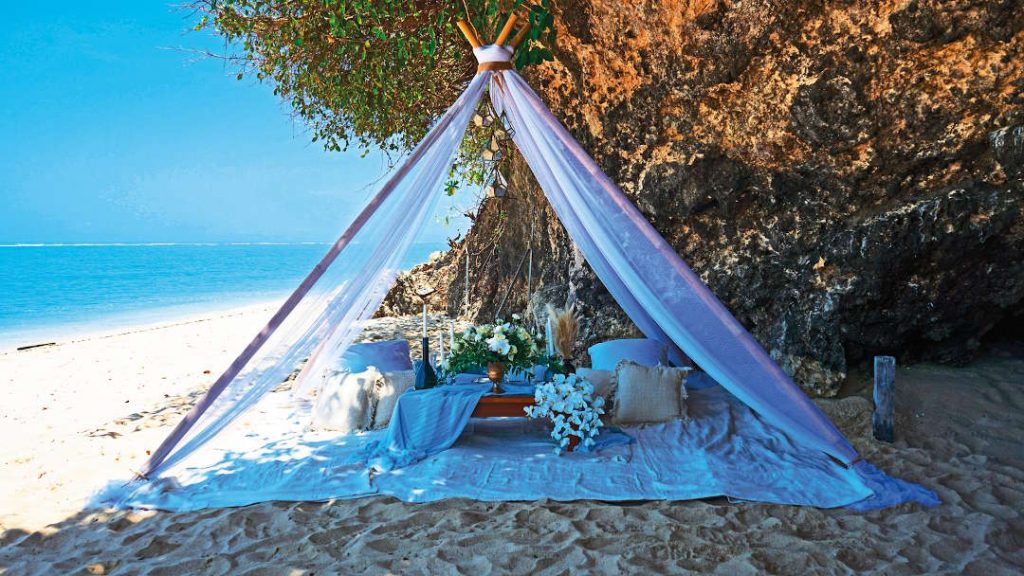 Under the Sea
This Marriage Proposal idea is very original and different, something that your partner will never imagine.
If both of you are scuba diving fans or it is something you have been waiting to do for a long time ago, this is the perfect option to make that very special question and that will remain in your lifes forever.
It is important to go with an instructor, that is the one that will guide you and control all the process.
For the Marriage Proposal moment, you can let your imagination flies. The most common ways are with a treasure chest with images of you both and the ring inside. Anothr option is to have a poster or a canvas, which will not be affected by water and says that important question.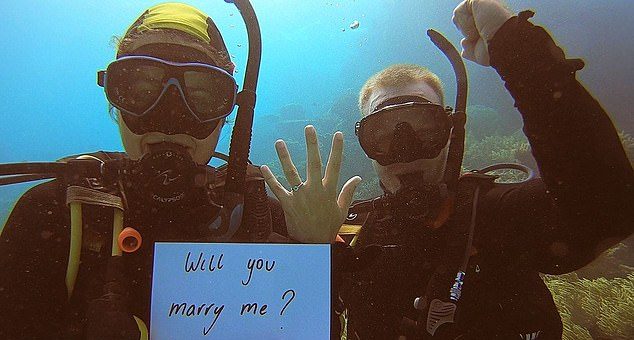 A Marriage Proposal is a very important step in yours and your couples life, it has to be a memorable and unique moment.
Nobody knows better your partenr, than you. Only you will know which will be the most special way to ask the love of your life, to marry you.
Make that moment, the most special one. This will be a memory that will give you joy and will live forever in your mind and heart.
Riviera Cancun Weddings is a local enterprise that helps you with your marriage proposal in the Mexican caribbean. Counts with professional planners; also transportation; accommodations; and of course, wedding planning services for your dream wedding.
For more info, contact us via Email: info@rivieracancunwedding or Whatsapp: +52 998 756 3961 and start planning the wedding of your dreams!
You would like to read: Beach Weddings: how much do they cost?