Are you looking for a Wedding Venue in Cancun or the Riviera Maya?
Beach Wedding Venue
Riviera Cancun Weddings offers you an intimate place with a Caribbean and relaxed atmosphere. Acamaya is our preferred location; a beach wedding venue located halfway between the city of Cancun and Playa del Carmen, in the peaceful town of Puerto Morelos, just 15 minutes from Cancun Airport.
Puerto Morelos is an old fisherman village that still retains the charm of its emblematic lighthouse and pier. It is the typical coastal town with its central park that faces a church. Since Catholic ceremonies are only held inside churches, the location is very convenient if you are thinking of getting married by the Catholic Church and having the reception at the beach.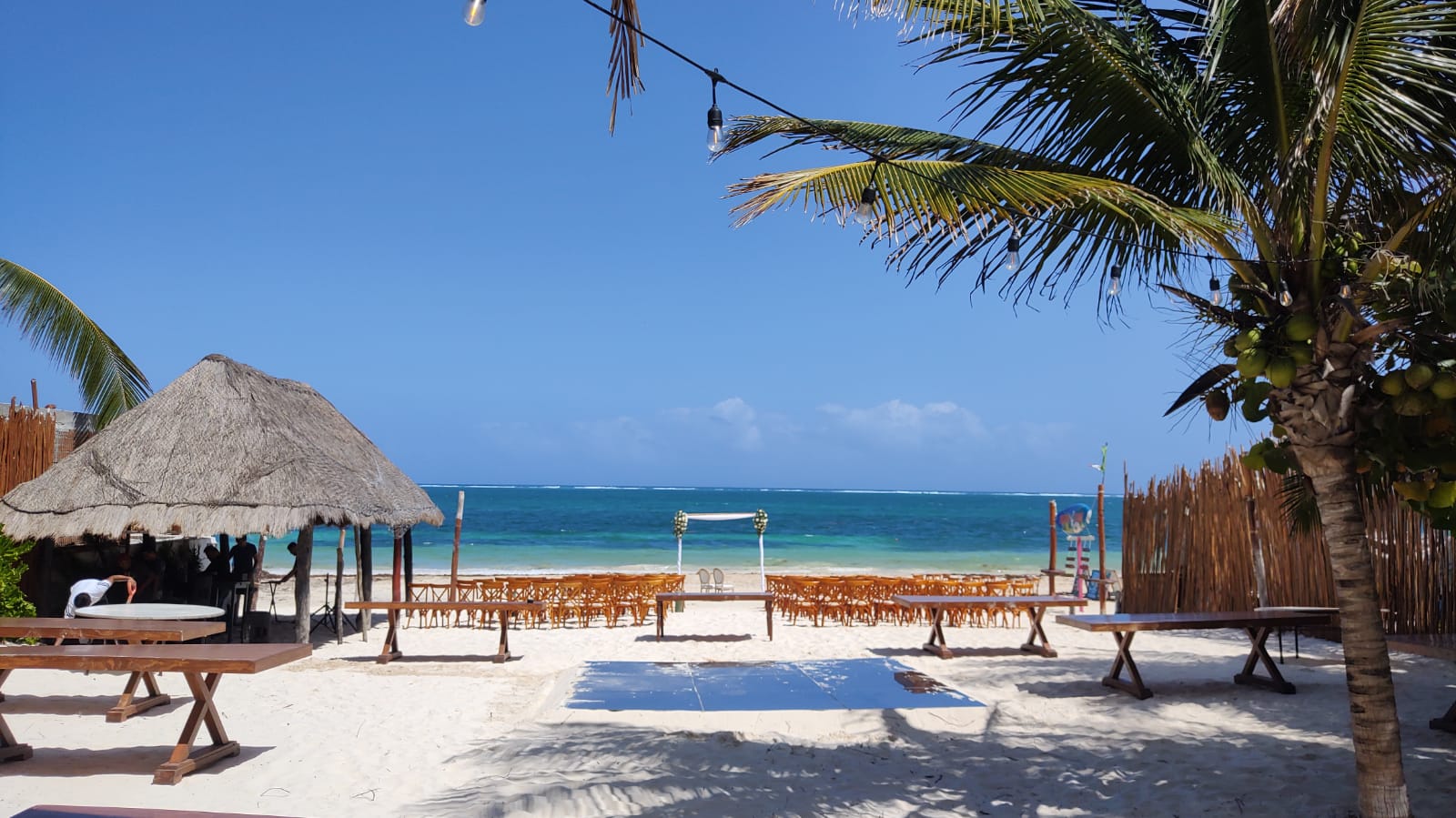 Cancun Beach Wedding
Acamaya beach wedding venue has a 20 meters beachfront and 40 meters deep of fine white sand. It also has a large parking lot, toilets, as well as the necessary facilities for holding events.
In addition, Riviera Cancun Weddings has a wide portfolio of Hotels and transportation service providers in case your guests are staying in other places of Cancun or the Riviera Maya.
Acamaya Weddings is starting to be one of the best Cancun Wedding Venues for Cancun or the Riviera Maya. It is actually considered as a Cancun Wedding Venue since its really close to the city of Cancun, and for a long time Puerto Morelos was actually part of Cancuns municipality. Our Wedding Venue is perfect for a couple wanting to held its wedding either in Cancun or the whole Riviera Maya.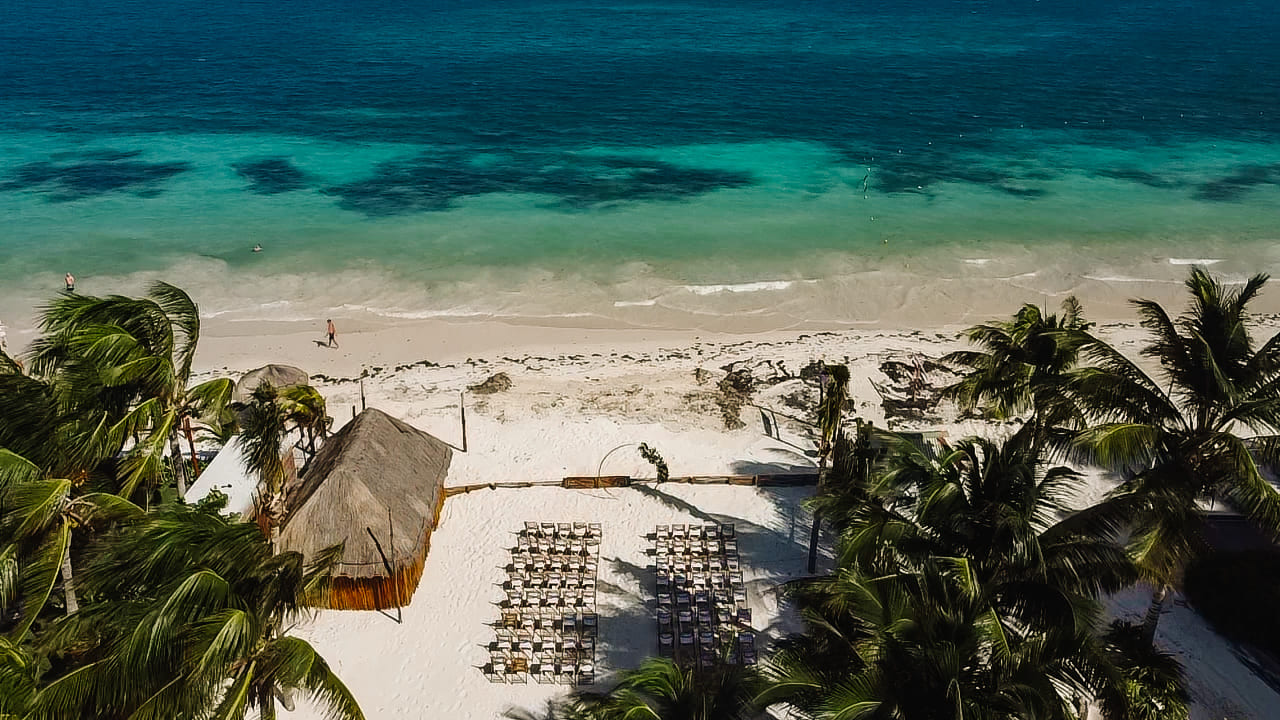 Riviera Maya Wedding Venue
Acamaya can actually be considered as a Riviera Maya Wedding Venue since Puerto Morelos is part of the Rivera Maya, considered the entrance to this Caribbean region.
Acamaya beach wedding venue in Puerto Morelos is perfect for a Riviera Maya wedding, the location beats any Riviera Maya Wedding Location with the facilities it offers, the beach area and the beautiful Ocean Views.
The Venue
Beach Area
Riviera Cancun Weddings in Acamaya offers a wide beach area, 20 meters of beachfront by another 20 meters where you can decorate beautifuly with lights and lounges around the area. This beach wedding area is perfect for your wedding, it has palm trees that make a great decor.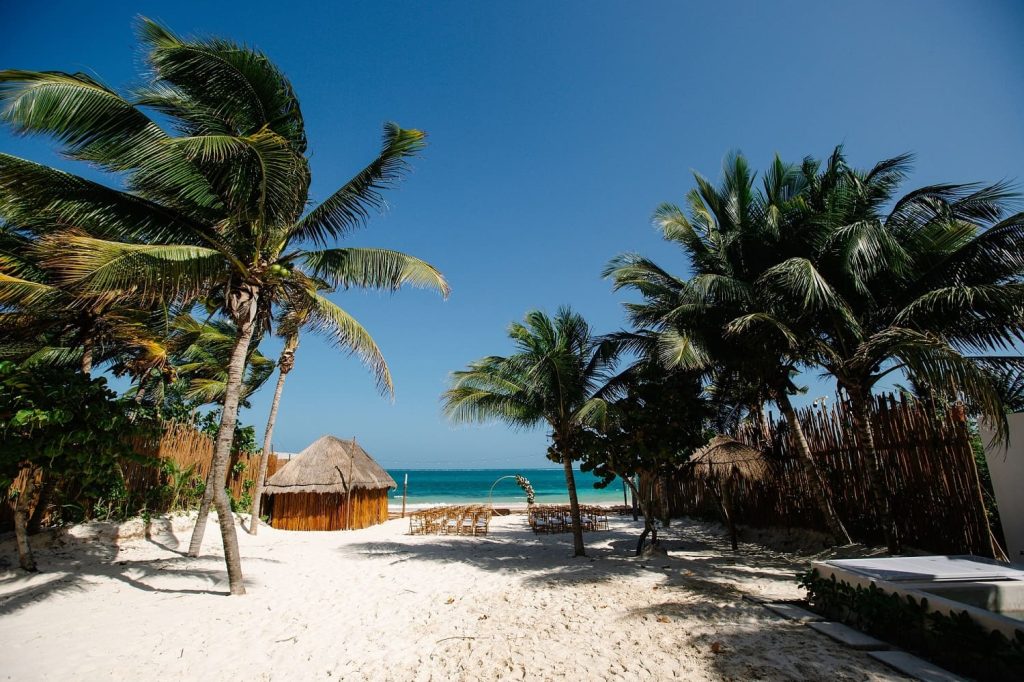 The Palapa
Right after the beach area, there is a huge palapa built just for special occasions like your wedding on the beach! The palapa is 20 meters wide by 13 meters deep, having enough space for up to 150 people.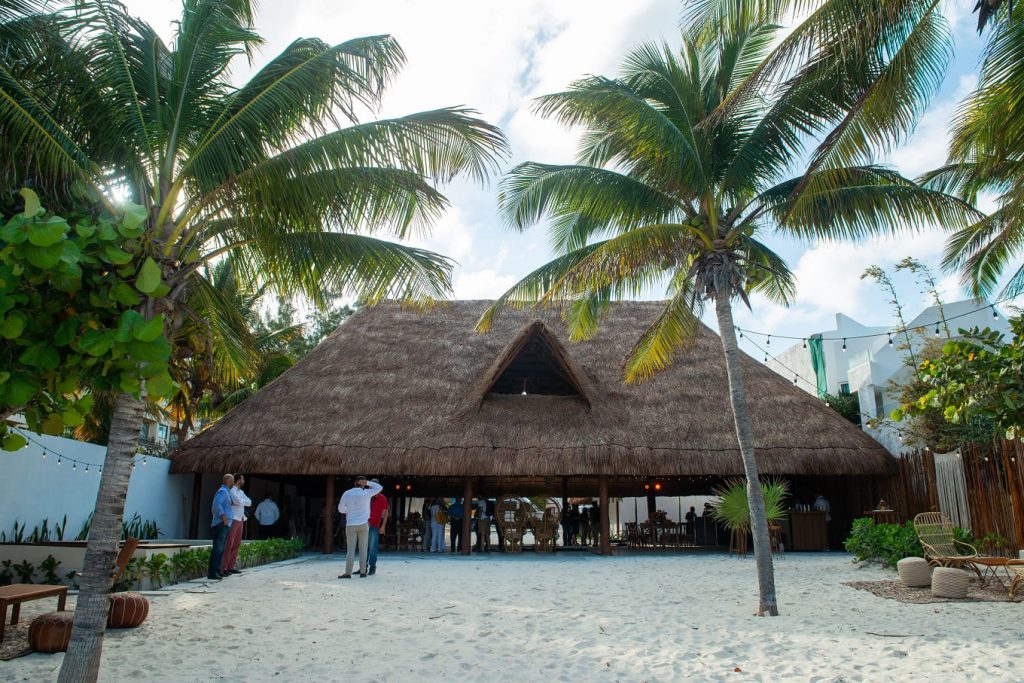 The Kitchen/Catering area.
The whole space is design for special events like weddings, and there is nothing better than a wedding on the beach. There is a kitchen designed for the catering to have the space they need to prepare the dinner, and make sure we have the best catering for weddings in Cancun and the Riviera Maya.
The restrooms.
The property has ladies and gentlemen bathrooms separated, 4 toilets for men and 5 for women, but the best thing about them is that they have A/C, so you'll have a great time in there too.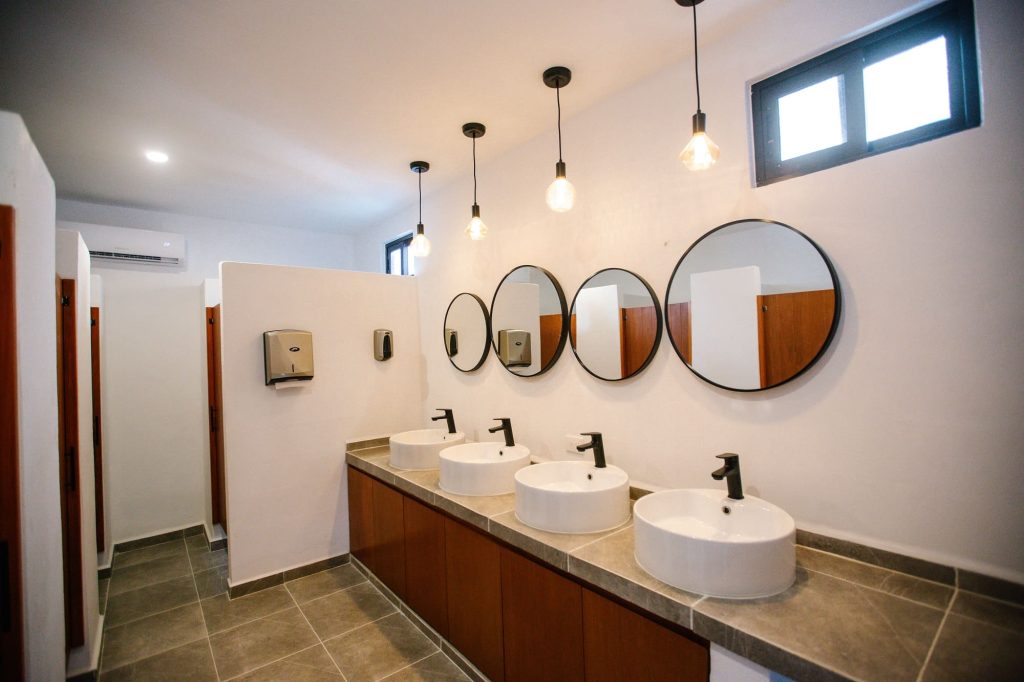 The Bridal Suite.
Why is there a Bridal Suite at our wedding venue? Well, every bride deserves a nice space where to get ready for that special moment. A nice suite with a minibar that can be filled with whatever you want, a private bathroom for you and your bridesmaids if you want it so… a huge mirror and a makeup vanity for your special wedding makeup artist to do its job.

Our wedding venue right between Cancun and Playa del Carmen is a perfect setting for the most important day of your life!
Our team of wedding coordinators will help you plan one of the most important days of your life. Contact us!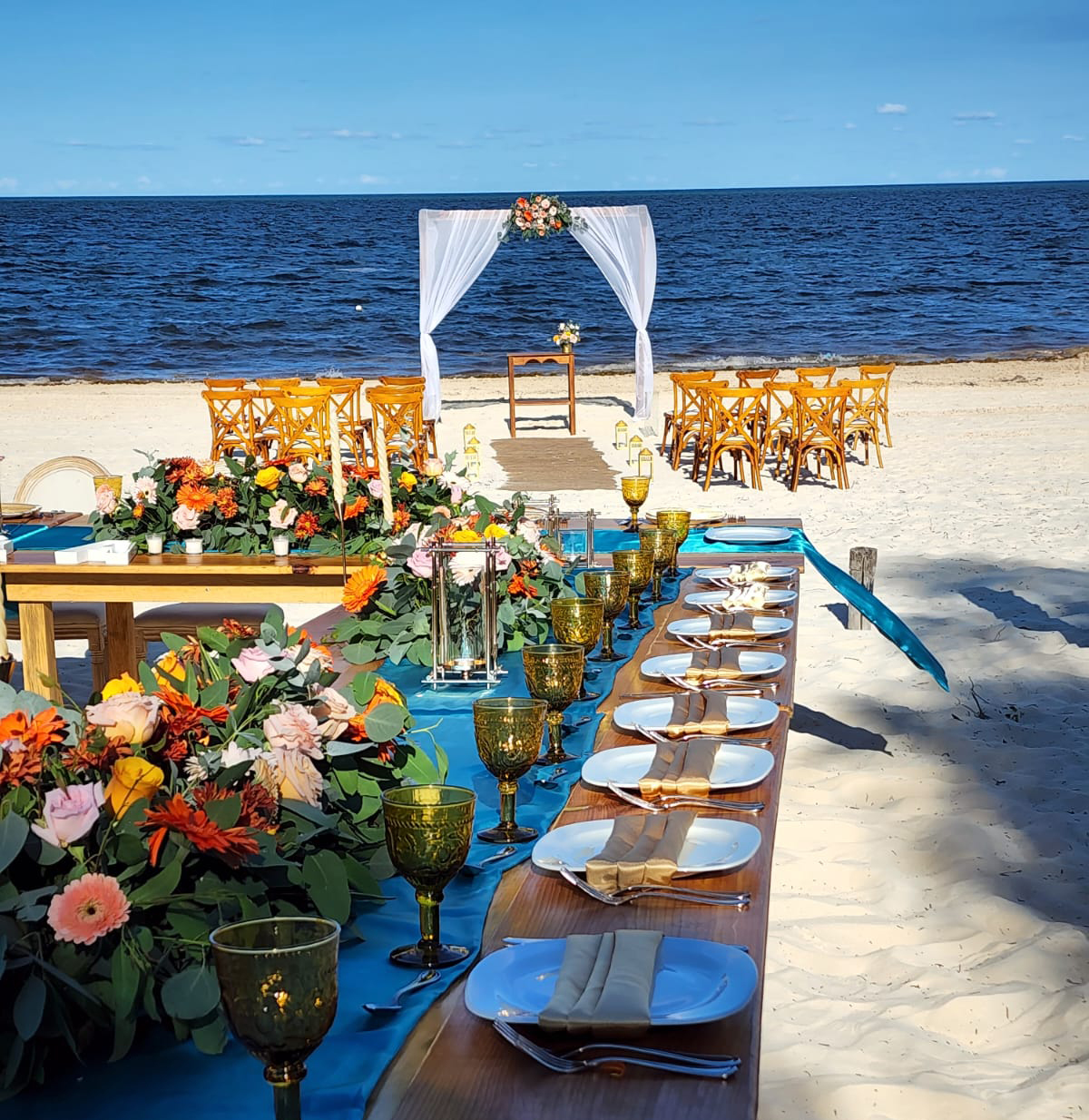 Contact us via Email: info@rivieracancunwedding.com o via Whatsapp: +52 998 191 9026 and start dreaming your Destination Beach Wedding in the Riviera Cancun coast!
¡Follow us on social media!
Acamaya Weddings Facebook / Acamaya Weddings Instagram