Are you dreaming of a picture-perfect destination wedding? Look no further than Cancun, Mexico, with its stunning beaches, warm weather, and vibrant culture. Cancun has become a top choice for couples seeking a memorable wedding experience. At Riviera Cancun Weddings, we specialize in creating unforgettable Cancun destination weddings that exceed your expectations.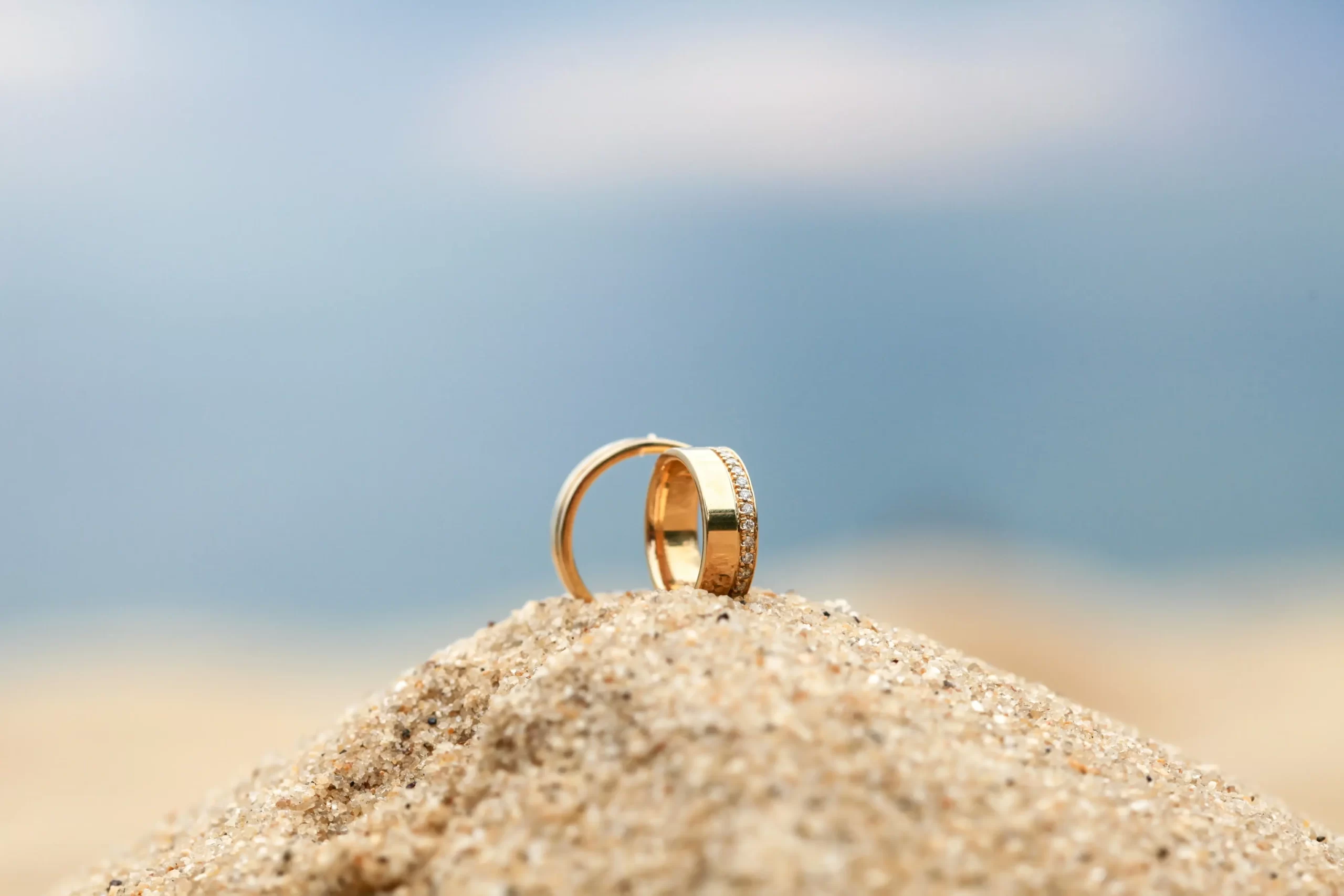 Cancun is a predilected place among those who are preparing for their special day, it's a great Destination Wedding among couples all around the world. The Riviera Maya and Cancun are home to breathtaking natural locations and resorts that will exceed everyones' expectations when it comes to a destination wedding.
Cancun Destination Wedding. This is a dream choice for a destination wedding for those who love the beach and the Caribbean. Cancun is very close to other towns like Puerto Morelos, Playa del Carmen, Tulum, and the Riviera Maya, all also great options to choose as your wedding venue!
As a main Destination Wedding in the Caribbean, and in the Yucatan Peninsula, Cancun and the Riviera Maya are mostly known for offering the best venues on the beach. Riviera Cancun Weddings have the most iconic ocean views and white sand beaches in the country.
What's a Destination Wedding?
A destination wedding is a wedding that takes place in a location away from the couple's hometown or country. The couple and their guests travel to a destination, which could be a beach, a mountain resort, a foreign city, or any other location that the couple chooses. Destination weddings often involve a smaller group of guests than traditional weddings, and they can range from simple, intimate ceremonies to elaborate luxurious events. Some couples choose a destination wedding because they want to combine their wedding and honeymoon in one location. Other couples may simply want a unique and memorable wedding experience.
Different Types of Venues in Cancun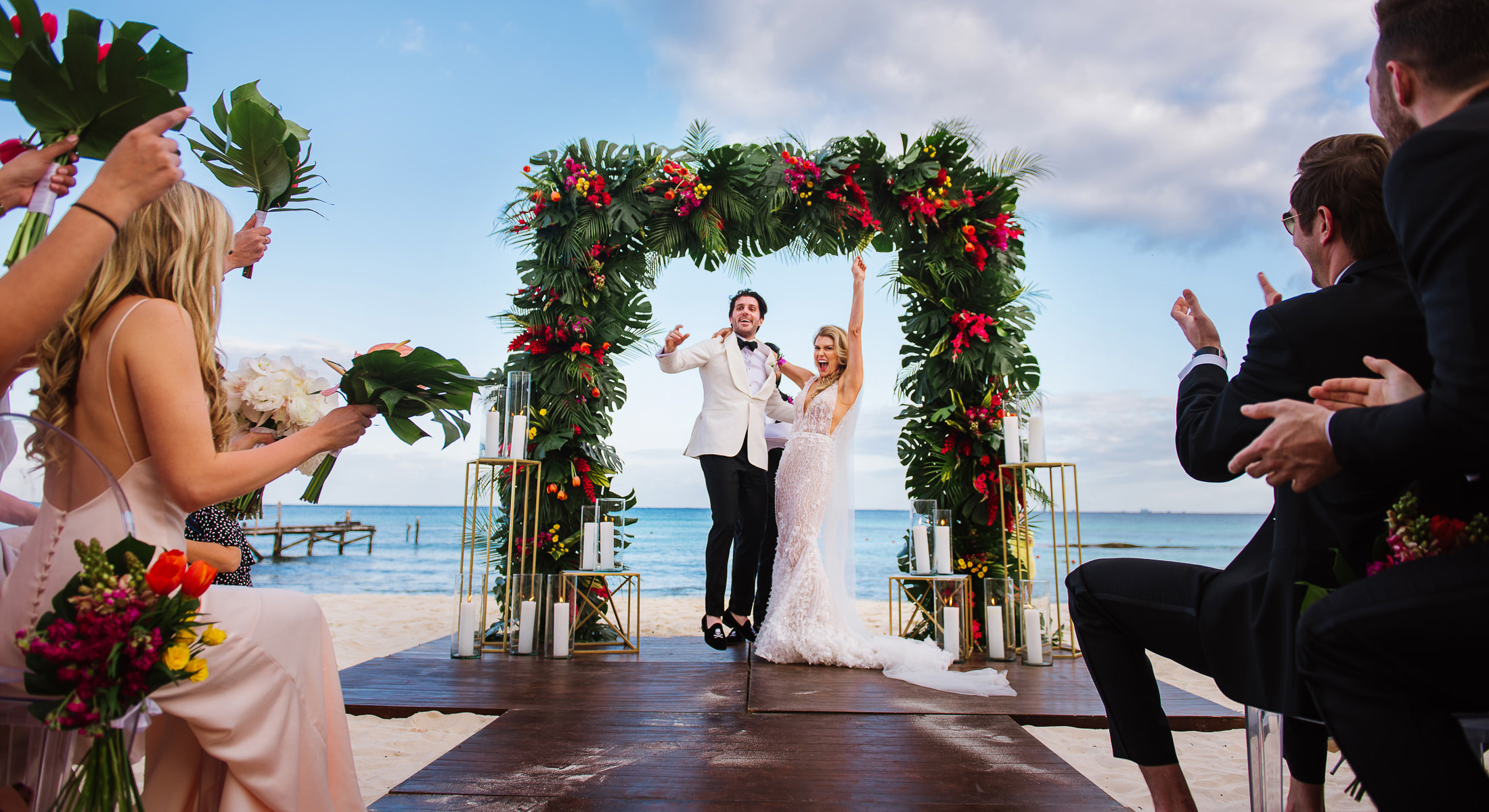 Cancun boasts a wide range of wedding venues, each offering its own unique charm and style. Whether you prefer a luxurious resort or a private villa, Cancun has the perfect venue to match your vision. Here are two main types of venues you can consider for your Cancun wedding:
All-Inclusive Resorts:

Cancun is renowned for its world-class all-inclusive resorts, which offer exceptional amenities, stunning ocean views, and impeccable service. These resorts often have dedicated wedding coordinators to ensure every detail of your special day is handled with care.

Beachfront Villas:

For a more intimate and exclusive experience, beachfront villas provide privacy and personalized service. These luxurious properties offer direct and private access to the beach, breathtaking views, and ample space for both your ceremony and reception.
Popular Cancun Wedding Destinations
Cancun offers a plethora of breathtaking wedding destinations that cater to various preferences and themes. Whether you envision an intimate beach ceremony or a lavish celebration, Cancun has something for everyone. Here are a few popular wedding destinations in Cancun:
Playa del Carmen Weddings:

Located just south of Cancun, Playa del Carmen is renowned for its picturesque beaches, crystal-clear waters, and vibrant downtown area. Exchange vows with your toes in the sand while enjoying stunning views of the Caribbean Sea.
Puerto Morelos Weddings:

If you desire a more secluded and romantic setting, consider Puerto Morelos. This charming town between Cancun and Playa del Carmen boasts pristine beaches, turquoise waters, and a laid-back atmosphere, perfect for an intimate wedding celebration.

Tulum Weddings:

Known for its bohemian vibes and ancient ruins, Tulum offers a unique and enchanting backdrop for your destination wedding. Say "I do" surrounded by lush jungles, Mayan ruins, and the breathtaking Caribbean coastline.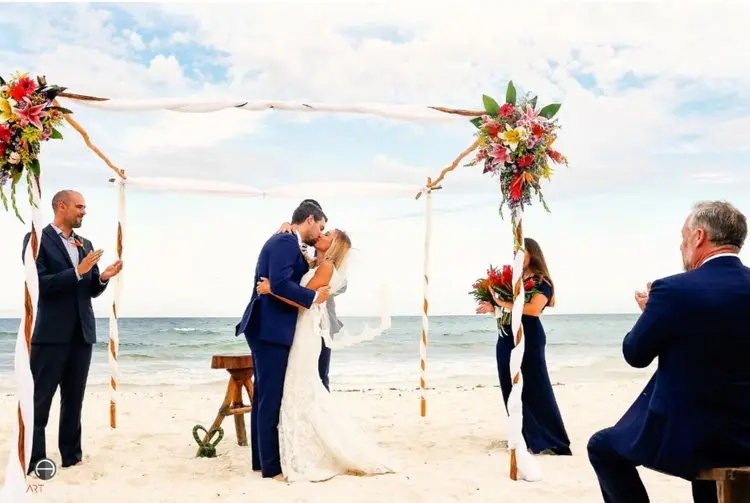 Advantages of Cancun Weddings
Choosing to have a Cancun Destination Wedding comes with a multitude of advantages that make it a perfect choice for couples seeking a truly unforgettable experience. Here are some of the advantages of having a Cancun wedding:
Breathtaking Natural Beauty:

Cancun is renowned for its pristine white-sand beaches, crystal-clear turquoise waters, and stunning sunsets, providing a naturally beautiful backdrop for your wedding photos and memories that will last a lifetime.

Convenient Travel Accessibility:

With its international airport and well-connected flight routes, Cancun is easily accessible for you and your guests. It's a popular destination that offers a wide range of flights from various locations, making it convenient for everyone to join in the celebration.

The abundance of Wedding Professionals:

Cancun boasts a thriving wedding industry with experienced wedding planners, photographers, florists, and other professionals who specialize in creating magical weddings. With their expertise, you can relax and enjoy your special day, knowing that every detail is being taken care of.

Vibrant Culture and Entertainment:

Beyond the wedding festivities, Cancun offers a vibrant and lively atmosphere. Your guests can explore the local cuisine, indulge in exciting water sports, visit ancient ruins, or simply relax on the stunning beaches. Ensure a memorable experience for everyone!
Plan Your Dream Cancun Destination Wedding
With its breathtaking wedding destinations, diverse venues, and numerous advantages, Cancun is an idyllic location for your dream destination wedding. At Riviera Cancun Weddings we have excellent locations for weddings throughout Cancun and the Riviera Maya. Our main venue is Acamaya Weddings in Puerto Morelos. Contact us today to start planning the Cancun destination wedding of a lifetime.
Telephone:
+52 998 1919026
Email:
info@rivieracancunwedding.com