Choosing your wedding dress is undoubtedly one of the most important things when planning your destination beach wedding. There is no bride who does not want to look beautiful on her wedding day and of course stand out on that special day.
There are so many varieties of beautiful wedding dresses, from pompous princess gowns to simple and sophisticated slip dresses. We firmly believe that the best wedding dress is the one you feel comfortable in. If you are still hesitant, have a look to th most common cuts or shapes: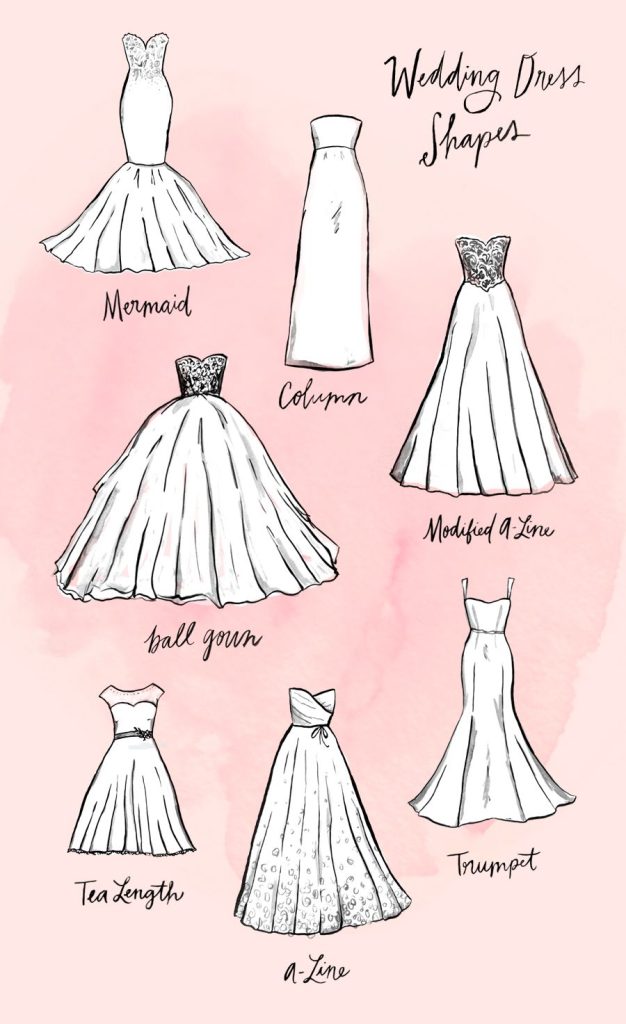 For destination weddings on the beach, we would recommend breathable fabrics, dresses that allow you mobility and that are easy to carry on the plane and thus avoid paying additional parcel shipping.
In that case, we would recommend you opt for wedding dresses with trumpet, slip, or A-line cuts. The latter, the A-line wedding dress fits at the chest and gains volume from the waist down, drawing an A-from there. the name with which it has been baptized – through a more open skirt. This figure is flattering on all body types. The A line reinforces the hourglass silhouette, highlighting the chest, adjusting the waist and adding volume to the lower body. By having simple lines, it allows all kinds of adaptations, so that details can always be added or subtracted to enhance the strengths of each body.
Now, when it comes to wedding dress necklines, there is also a lot of variety. If we mix the options of type of cut and neckline, fabric, etc. the options for wedding dresses are almost endless! Do you know which are the most common? here we present them:

How many options are there? but don't get overwhelmed, try to make a list of the things you are looking for in your wedding dress and tell the seller of the boutique you go to. Try to start your wedding dress search early to give yourself time to look at several options. And above all, go to a professional or formal store to avoid going through a bad time.
Look at this gallery of wedding dresses in trend this 2022:
Contact us via Email: info@rivieracancunwedding.com o via Whatsapp: +52 998 191 9026 and start dreaming your Destination Beach Wedding in the Riviera Cancun coast!
¡Follow us on social media!
Acamaya Weddings Facebook / Acamaya Weddings Instagram